Vom 17.-18.3. findet die VWBPE 2011 – "Virtual Worlds – Best Practices in Education" in der virtuellen 3d-Welt von Second Life statt, in der auch die HWR Berlin zwei Inseln unterhält. Wie schon im letzten Jahr werden sich tausende von Avataren tummeln, um zu erfahren, wie weit virtuelle Welten für Lern- und Lehrzwecke genutzt werden können.Am Freitag, den 18.3. werde ich im Rahmen der Konferenz einen virtuellen Vortrag zum Thema "Transfer of Physical Classroom Techniques to the Virtual Classroom During a Practice Supervision Course" halten, der auf meiner Forschungsarbeit (mit Antje Gallo) im Rahmen des IBMan Practice Supervision Kurses basiert. Präsenzveranstaltungen dieses Kurses werden seit dem SS 2010 in Second Life abgehalten.
---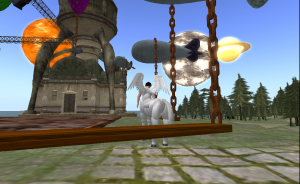 Ort: 3D-Konferenz-Simulator "North 1" in Second Life.
Zeit: 16:00 MEZ
Eintritt: frei! [Teilnehmer müssen lediglich ein Avatar besitzen, das ebenfalls umsonst ist – Registrierung in 5 min hier. Um die Welt von Second Life betreten zu können, muss ebenfalls ein Klientenprogramm heruntergeladen werden.
---
Ebenfalls sehens- und hörenswert – am selben Ort im Anschluss: die von Büro X gemeinsam mit dem Campus Hamburg organisierte Veranstaltung PANEL "AVATARS IN CLASS – CAMPUS HAMBURG IN 3D" – ein Expertenteam von Büro X, HAW Hamburg, TUV Nord etc diskutiert Lehre in Virtuellen Welten – Beginn 18:00 mit Vorveranstaltungen ab 17:00 Uhr. Mehr Info: hier.
---
Zur Einstimmung hier ein 6-minütiger Film, der für die Wintertagung 2011 des Berliner Zentrums für Hochschullehre entwickelt wurde und einen kurzen Überblick der virtuellen Aktivitäten der HWR in Second Life bietet.
Second Life – HWR Island (long version, deutsch) from KMU Interkomp 2.0 on Vimeo.  Production: Marcus Birkenkrahe and Bastian Hagmaier. We'd like to thank the FHProfUnt project "KMU Interkomp 2.0" for their generous support. An English version of this movie is available, too.
---
Nachtrag 18.03.11: die Folien meines Vortrags sind hier erhältlich. Die Folien von Büro X/Campus Hamburg sind hier.