Die SCOM-Gruppe der HWR Berlin bietet eine breite Palette an SCOM-Modulen in zahlreichen Bachelor- und Masterstudiengängen der HWR Berlin. Darüber hinaus ist die SCOM-Gruppe für den Bachelor in Global Supply Chain und Operations Management verantwortlich. Zuletzt haben wir ein neues Master-Programm in Global Supply Chain und Operations Management auf Englisch gestartet.
Hier finden Sie eine Zusammenfassung für das Tätigkeitsfeld SCOM als PDF.
Level
Module
Core
Operations Management
Undergraduate SCOM Major
Production and Supply Chain Management
Distribution and Transportation Management
Supply Chain Management and Information Systems
Selected Topics in SCOM
Master in Global Supply Chain and Operations Management (gSCOM)
Advanced Operations Management
Global Supply Chain Management
International Logistics Management
Supply Chain and Operations Analysis
Managing Global Supply Chain Projects
Principles of Consulting in gSCOM
Unser Lehransatz ist multidisziplinär
Unser Lehrkonzept basiert vor allem darauf, den Studierenden grundlegende Konzepte, Arbeitskenntnisse und Software-Tools in den Bereichen Supply Chain Management, Bestandsmanagement, Produktionsmanagement, Beschaffungsmanagement und Logistik zur Verfügung zu stellen. Wir unterrichten Klassen in SCOM, die theoretische Konzepte mit praktischen Projekten veranschaulichen und solche Werkzeuge wie AnyLogic, anyLogistix, Supply Chain Guru und Spreadsheet Modeling verwenden.
Der Inhalt unserer Lehre ist in den folgenden Lehrbüchern zusammengefasst:
Ivanov D., Tsipoulanidis, A., Schönberger, J. (2017) Global Supply Chain and Operations Management: A decision-oriented introduction into the creation of value, Springer.
Ivanov D. (2017) Supply Chain and Operations Simulation with AnyLogic. 2nd Ed., erhältlich unter www.anylogic.com/books
Ivanov D. (2017) Supply Chain Simulation and Optimization with anyLogistix: hol dir das PDF hier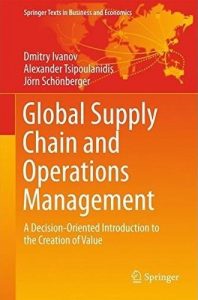 Hol dir das Buch über Springer.com
Kostenlose Companion-Website mit Excel-Vorlagen, Video-Links, Fallstudien, Business-Spiele und zusätzliche Materialien:
global-supply-chain-management.de